Tab-ul Explore era partea care mă enerva la culme pe Instagram. De fiecare dată când intra pe aceea pagină găseam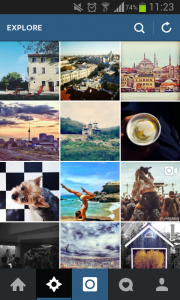 fotografii deja clişeice de tip: selfi-urile vedelor sau a celor care wanna be vedetă dar au ajuns să aibe jdemii de followers, cocktailuri de la party super filtrate, prea bine cunoscutele ceşti de cafea şi desigur că nu puteau lipsi nici landscape-uri penibile. Şi-am ajuns să folosesc foarte puţin acest buton.
Dar într-o zi lucrurile s-au schimbat iar în feed-ul Explore nu am mai găsit fotografiile alea cu jdemii de like-uri de la useri cu jdemii de urmăritori. Parcă au început să-mi placă fotografiile alea. Ba mai mult, aproape toate erau pe stilul şi gustul meu. După ce am făcut nişte "cercetări" (bine, nu la nivelul cercetătorilor din Marea Britanie ci la nivelul "Google is your best friend") am observat că Instagram şi-a schimbat algoritmul de la Explore.
Noua versiue de Explore s-a schimbat, acum e o combinaţie între what's globally popular + what's hot with people you follow. Adică, dacă urmăreşti doar fotografi de portrait atunci cu siguranţă vei descoperi în feed-ul tău de Explore mai multe portrete.
We're always looking to update the types of posts you see in Explore to better tailor it to you. We'll show you a variety of photos and videos that people you follow have liked, as well as content that is trending in the Instagram community. sursa
Aşadar, de-acum încolo have no fear and use the Explore Tabşi cine ştie ce alte conturi interesante vei descoperi.