Fără o sărbătoare prea mare, fără prea mult tam-tam, ci doar un articol pe blog și un video simplu, Instagram au anunțat că au ajuns la jumătate de miliard de utilizatori.
Dar până la urmă, parcă nici nu le trebuie prea multă zarvă și agitație. Pentru că atunci când faci o treabă bună, lumea vorbește despre tine!
Today, we're excited to announce our community has grown to more than 500 million Instagrammers — more than 300 million of whom use Instagram every single day. Our community also continues to become even more global, with more than 80 percent living outside of the United States. sursa
Așa că atunci când vorbim despre Instagram și numerele din spatele aplicației, ar trebui să luăm în considerare următoarele date:
500 milioane utilizatori activi
Mai mult de 300 milioane de utilizatori activi zilnic
Peste 80% dintre ei sunt din afara Statelor Unite
Pe zi se dau 4.2 miliarde de like-uri la imagini și video
Zilnic se uploadează peste 95 Milioane de imagini și video
Ultima oară când au anunțat că au atins pragul de 400 milioane de utilizatori a fost acum 9 luni.
Cei de la Techcrunch au făcut un vizual interesant pentru a observa creșterea aplicației. Articolul se poate citi
aici
. (P.S. – până și la case mari precum TC există o problemă de branding și alinieri, când vine vorba de
visual marketing
)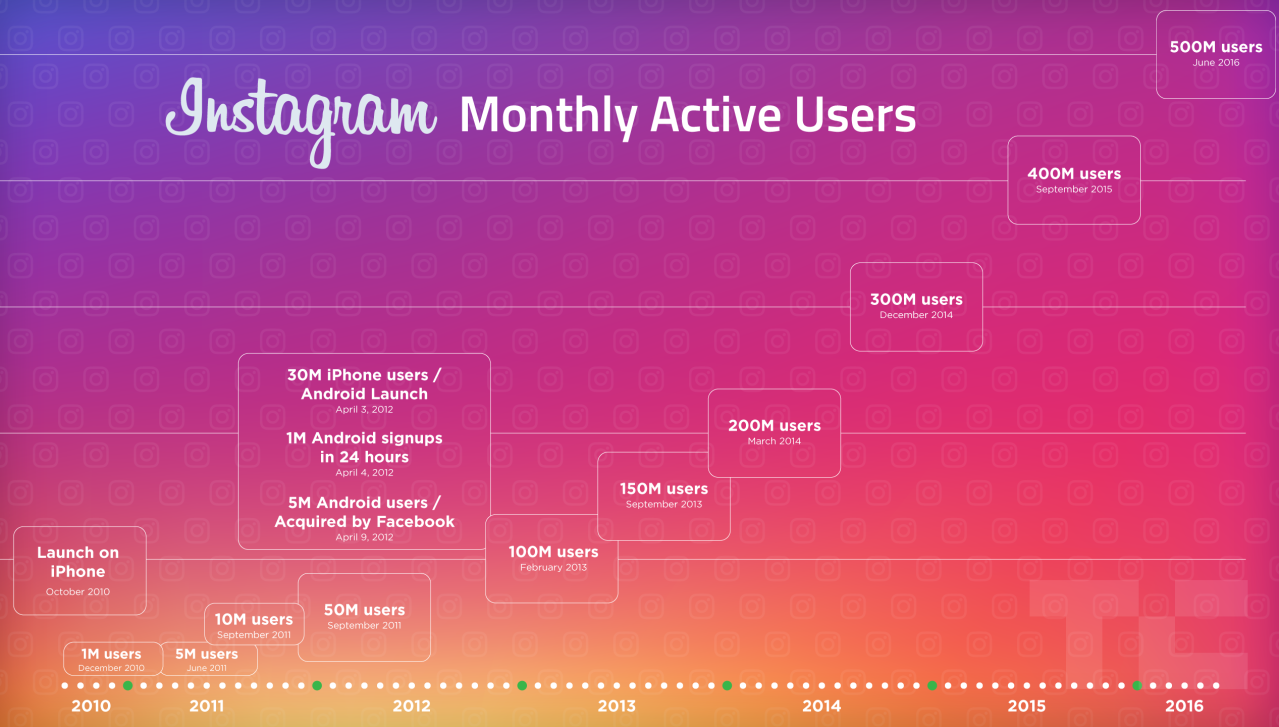 La mulți utilizatori Instagram!